Hands-on with the Unifi Design Center
Discover the free tool to help you design your network!
This post will walk through the steps to use the Unifi Design Center. We'll also take a quick look at some tips and tricks for use. Before starting, let's define what exactly the Unifi Design Center is all about.
The Unifi Design Center is a product designed and published by Ubiquiti, the parent company that produces and sells the Unifi line of networking products. The Design Center centers around the ability to allow potential and current customers to create a layout of their space and then visualize the coverage and range provided by various products. Some of the visualizations provided by the Design Center include products such as Wifi Access Points and Protect Cameras.
The Unifi Design Center is located at https://design.ui.com/. Log in with a Unifi account to get started.
Basic Setup:
Create a new project. This includes a name, building location, building size, building users, and building type. In this settings menu, you also have to choose whether you would like your design optimized for value or performance.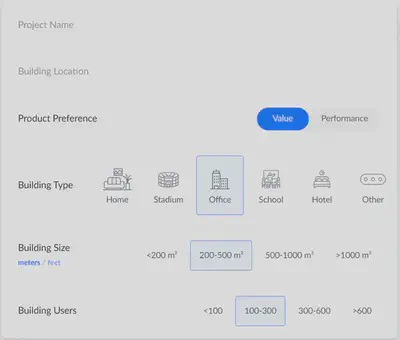 The next step is to select the Unifi products you would like to use in the project. This is pretty strait-forward.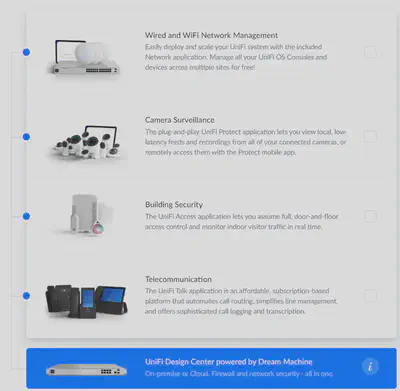 The basic, required setup steps are now complete. For this example, we will be using the sample floorplan.
You can now add obstacles and other things to your map. These are giving the Design Center knowledge of the materials that are used to build your space. This is critical to compute the optimal range.
Play around with the different options for hardware you can add to the map.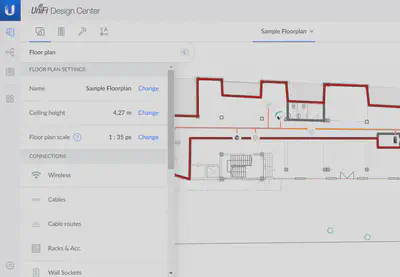 Once you have finished with your design, there is an option to export the hardware you have added as a shopping list for the Unifi store.